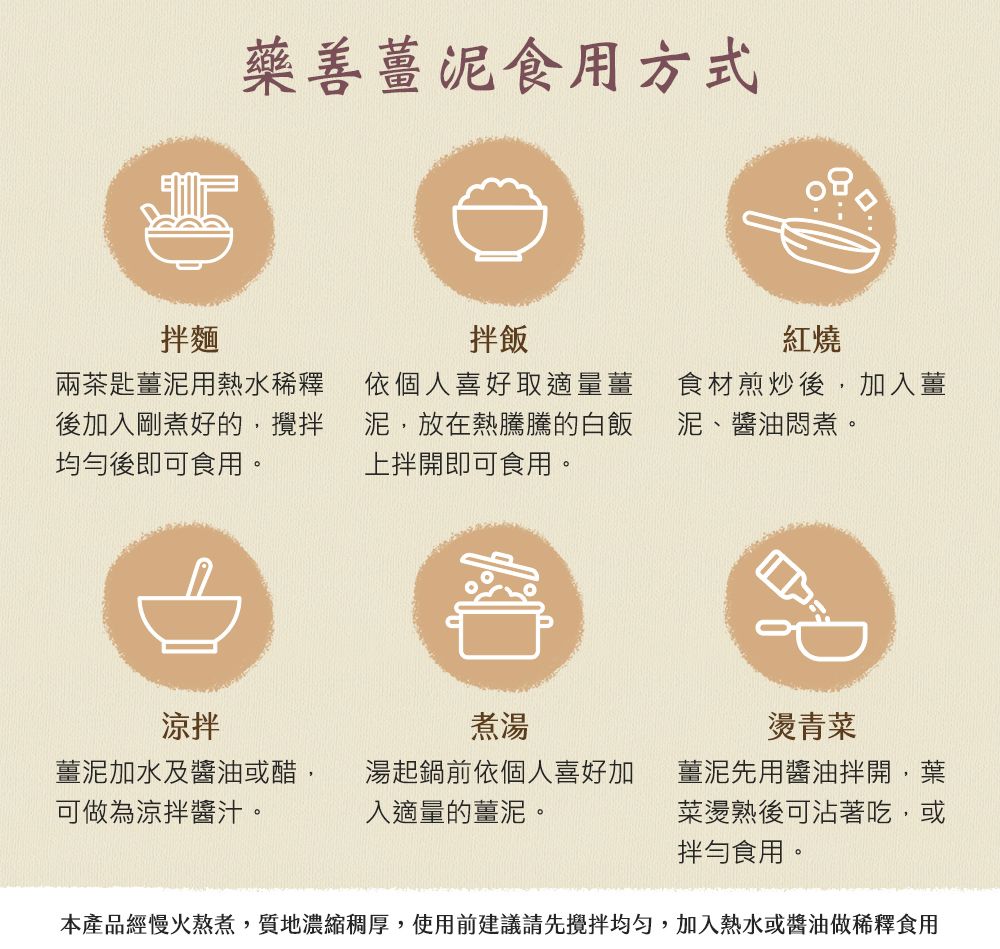 Ginger Paste with Sesame Oil & Chinese Herb 麻油藥善薑泥
The Buddha has great love and compassion toward all sentient beings and educate us to apply the love and compassion in action by eating ethically. Ginger Paste with Sesame Oil & Chinese Herb is produced to provide more varieties of vegetarian cooking ideas and hoping to motivate the transition of more ethical way of eating.
佛陀憫念天地萬物,教育大眾茹素長養慈悲心,並從行動中實踐尊重生命的意涵。為提供素食者更多元的蔬食料理方式,兼具美味與便利的「藥善薑泥」就此誕生,品名以「善」字命名,具有勸人向善的意思。除讓大眾能輕鬆茹素,更藉由此拌醬產品啟發大眾由葷轉素的念頭,並感受茹素是如此簡單與美好。
Net Weight: 200g
Ingredients: Ginger, Sesame Oil Black Bean Soy Sauce (Black bean, Water, Sugar, Salt), Vegetarian Black Vinegar (Water, Vinegar, Sugar, Salt, Caramel Colors, Mushroom, Concentrated Orange Juice, Carrot Juice, Tomate Paste, Konbu-Seaweed, Anise, Flavour, Fennel, Celery Seeds), Brewing Soy Sauce (Water, Soybean, Wheat, Salt), Sugar, Salt, Yeast Extract, Chinese Herbal Powder (Angelica, Goji Berry, Chuanxiong, Astragalus, Silicom Dioxide), Nucleotides (Sodium 5'-Inosinate, Sodium 5'-Guanylate), White Pepper, Antioxidant (Tocopherols Concentrate (Mixed)), Sweetener (Steviol Glycosides)
Contains Sesame, Black Bean, Soy and Wheat.
成分: 老薑、芝麻油、黑豆醬油、素食烏醋(水、釀造酢、蔗糖、食鹽、焦糖色素、香菇、濃縮柳橙汁、胡蘿蔔汁、番茄糊、昆布、大茴、香料、小茴、芹菜籽)、釀造醬油(非基因改造脫脂黃豆片)、蔗糖、食鹽、酵母抽出物、藥膳粉(當歸粉、枸杞粉、川芎粉、黃耆粉、二氧化矽)、核苷酸(5'-次黃嘌呤核甘磷酸二鈉、5'-鳥嘌呤核甘磷酸二鈉)、白胡椒粉、抗氧化劑(混合濃縮生育醇)、甜味劑(甜菊醣苷)
You may stir the sauce with noodles or rice, braise tofu, use as salad dressing or soup base or simply mix it with soy sauce as dipping sauce.
【簡便食譜】
1. 拌麵:兩茶匙薑泥用熱水稀釋後加入剛煮好的麵線、細麵或是麵條,攪拌均勻後即可食用。
2. 拌飯:依個人喜好取適量薑泥,放在熱騰騰的白飯上拌開及可食用。
3. 紅燒豆腐:豆腐切塊煎製微微焦黃,加入薑泥、醬油。
4. 涼拌:薑泥加水或醬油後可做為涼拌醬汁(青木瓜、醃蘿蔔、小黃瓜)。
5. 煮湯:湯起鍋前依個人喜好加入適量的薑泥。
6. 燙青菜:薑泥先用醬油拌開,花菜、葉菜燙熟後可以沾著吃,或直接拌勻著吃。